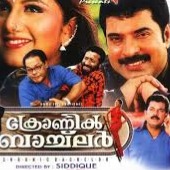 Chronic Bachelor
Swayamvara chandrike
Movie : Chronic Bachelor
Singer: P.Jayachadran, Sujatha
Music : Deepak Dev
Lyrics: Kaithapram
Director: Siddique
Swayamvara Chandrike Lyrics
Swayamvara chandrike swarnna manimeghame
Hridaya raaga doothu parayaamo
Pranaya madhuram avalkkaay pakarnnu varumo
Konchum kalithennale nenchin kilikkonchale
Melleyonnu chennu parayaamo
Paathi vidarum kinaavin paribhavangal
(Swayamvara…..)
Ekaantha sandhya vidarnnu
Snehayamunaa nadikkarayil
Innum aval maathram vanneela
Varumennu veruthe thonni
Ee vazhiyileri ninnu njaan
Innumavan kanaan vanilla
Aval kaataay mulayaay njan
Swara niswasamaayen gaanam
Oru nakshrathra manaminnumkale vithumbunnithaa
(swayamvara……..)
Mudi vaarnnu kothiyathellaam
Niramizhiyil anjanam maanju
Kaivalakal polum mindeella
Kuyil vannu paadiyathenthe
Priyasakhikal oathiyathenthaano
Poomizhikal enthe thorneelaa
Anuraagam priyaraagam
Peithu theeraathe pokunnu moham
Kadalala pole ala thalli
Alayunnathen maanasam
(Swayamvara……..)
Swayamvara Chandrike Music Video.
Chronic Bachelor is a 2003 Indian Malayalam-language romantic comedy-drama film, written and directed by Siddique. It is about the life of Sathyaprathapan, a bachelor. It features Mammootty, Mukesh, Rambha, Bhavana, Indraja, Innocent, and others. Jyothika was signed as the lead actress but later was replaced by Rambha. The movie was produced by Fazil.
The film was a commercial success. It was later remade in Tamil as Engal Anna starring Vijayakanth, Prabhu Deva, Namitha, and Vadivelu and in Telugu as Kushi Kushiga with Jagapati Babu.