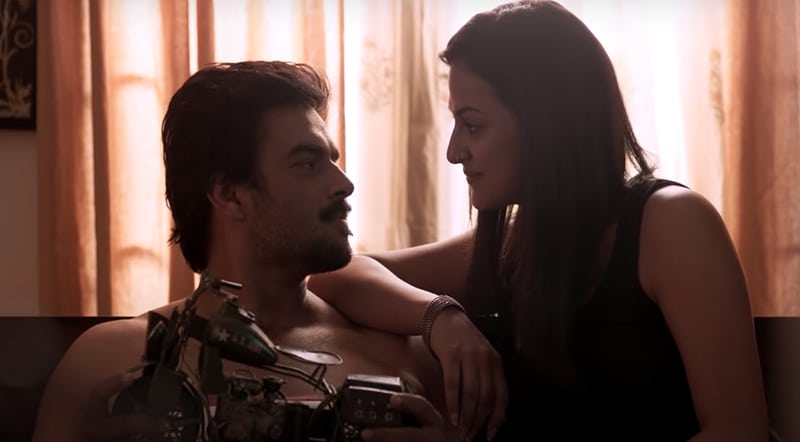 Yaanji Lyrics from the movie Vikram Vedha : The song is sung by Anirudh Ravichander, Shakthisree Gopalan, Lyrics are Written by Mohanraj and the Music was composed by Sam CS. Starring R Madhavan, Vijay Sethupathi, Shradha Srinath.
Track Name : Yaanji
Album : Vikram Vedha
Vocals : Anirudh Ravichander, Shakthisree Gopalan
Songwriter : Mohanraj
Music : Sam CS
Cast : R Madhavan, Vijay Sethupathi, Shradha Srinath
Music-Label : Think Music India
Yaanji Lyrics
Oh hoo….
Yaanji yaanji en nenjil
Vandhu vandhu nikkura
Yaen yen yen
Enna saanji saanji
Nee paarthu unna sikka veikura
Yaen yen yen
Kanavinil mulaikiraai
Imai anaikkayil naan
Vinavena valaigiren
Unai ninaikiyil
Oh nenjaathiye
Nenjaathiye
Needhanadi en vaazhkaiye
Oh oh oh nee enbadhe
Naan engira neeyae
Oh nenjaathiye
Nenjaathiye
Needhanadi en vaazhkaiye
Oh oh oh nee enbadhe
Naan engira neeyae
Yaanji yean
Menmaiyaai Mella nagarum
Enthan naatkurippil
Vanmayaai nee Vandhu serum
Maayam enna
Ennavo seigirai
Nee en aayul ellaigal
Pol aagiraai
Oh oh oh
Gaandhamaai ennai ennai
Eirkkum undhan Anbhu indru
Saandhamai ennai
Katti podum Jaalam enna
Ketkiren kooradi Penmaiyae
Vaazhka Poghum thooram
Neeyum naanum Pogavenum
Endhan nenjil Kodi aasai
Thondruthu
Nee endhan Paathi endrum
Naanum undhan Meedhi endrum
Kaadhal kaadhukulla
Vandhu odhudhu
o.. ho Yaanji
Un viral Ennai chellamaaga
Theendum neram
En nizhal Unnai ottikollum
Romba neram
Porvaiyil noolena
Serndhu kondomae
Eppodhum kan moodiyae
Bhrammanal aana
Bommalatam Bhoomi meedhu
Noolinal aadum
Bommaiyaaga Neeyum naanum
Aaduvom saaduvom Meezhuvom
Yedho raagam
Nenjukulla vandhu vandhu
Un pera solli solli Paaduthu
En raththa cellgal unna
Kanda pinbu Kodigal yendhi
Unna muththam seiya
Solli koovudhu
Oh oh oh..
Oh nenjaathiye
Nenjaathiye
Needhanadi en vaazhkaiye
Oh oh oh nee enbadhe
Naan engira neeyae
Oh nenjaathiye
Nenjaathiye
Needhanadi en vaazhkaiye
Oh oh oh nee enbadhe
Naan engira neeyae
Yaanji yean
Yaanji Music Video. 
Vikram Vedha is a 2017 Indian Tamil-language neo-noir action thriller film written and directed by Pushkar–Gayathri and produced by S. Sashikanth under his banner Y NOT Studios. The film stars Madhavan, Vijay Sethupathi, Shraddha Srinath, Kathir, and Varalaxmi Sarathkumar while Prem, Achyuth Kumar, Hareesh Peradi, and Vivek Prasanna play supporting roles. Inspired by the Indian folktale Baital Pachisi, the film tells the story of Vikram (Madhavan), a police inspector who sets out to track down and kill Vedha (Sethupathi), a gangster. After Vedha voluntarily surrenders himself, he tells Vikram three stories that change his perceptions of good and evil.
In January 2015, Sashikanth revealed that he would be producing a film directed by the husband and wife duo, Pushkar and Gayathri. Following a year of development on the script throughout 2015, Madhavan and Sethupathi were selected to play the lead roles in February 2016. Principal photography began in November of the same year and was completed by January 2017. The film was shot mainly in North Chennai, with the area being used as its backdrop. Sam C. S. composed the soundtrack and score, P. S. Vinod performed the cinematography, and the film's editor was A. Richard Kevin.
Vikram Vedha was released on 21 July 2017 and received positive feedback, with critics praising all major aspects of the production. Made on a budget of ₹110 million (about US$1,661,631 in 2017), the film performed well at the box office, grossing ₹600 million (about US$9,063,444 in 2017) worldwide despite experiencing difficulties due to the changes resulting from the implementation of the Goods and Services Tax. Vikram Vedha won four Filmfare, Vijay, and Norway Tamil Film Festival awards each. Additionally, it received three Ananda Vikatan Cinema Awards, two Techofes Awards, and an Edison Award.